Oral Sedation Dentistry
What is Oral Sedation Dentistry?
Many people are afraid or uncomfortable about going to the dentist. Oral Sedation Dentistry in Bangor Maine offers pain-free and anxiety-free dentistry for patients who fear dental procedures, fear needles, have difficulty with their gag reflex, have very sensitive teeth, or have difficulty getting numb. It also provides an opportunity to perform multiple or lengthy dental procedures in as little as a single session.
Oral Sedation Dentistry generally requires that the patient take a prescribed medication by mouth the night before the dental procedure and then about one hour before the scheduled visit. The patient will arrive at Creative Dental Solutions' Bangor office in a relaxed state where assessment for need of further relaxing medication is done before treatment begins. During the procedure, the patient is not unconscious, but relaxed and detached from what is going on. The medications used generally have an amnesic effect, which means that the patient will have little memory of most of the dental visit.
During your treatment, we will continuously monitor your blood pressure, pulse, and oxygen saturation rate with state of the art monitoring equipment. We will never leave your side. You will need to have a companion accompany you to and from the office for your safety.
Dr. Sevey is a member of the Dental Organization for Conscious Sedation and is certified in Advance Cardiac Life Support. He and his staff have been well trained in this safe and effective method of providing an anxiety free dental experience. Don't let the fear of dentistry keep you from having a great looking smile! Take the time to come in and meet us so we can decide together what is best for you. If you would like a first appointment to simply talk about your dental anxieties and fears, we can do that and no dental exam would be done. Or if you prefer, we can take a look to get an idea of how we can help you. Call today and ask for Sophie or Susan to get you started on your way to a new dental you!
Related Sedation Dentistry Articles
Oral Sedation Dentistry
Step out from under the shadow of fear and into the calm of sedation dentistry. There are safe and time-tested options available to ensure that you have a positive and painless dental experience. Your apprehension and hypersensitivity to pain melt away, yet you remain awake and in control… Read Article
Overcoming Dental Fear & Anxiety
It's possible, even for those people who are the most fearful, to reduce their fear and to learn to have treatment in a way that feels calm and safe. Here's how… Read Article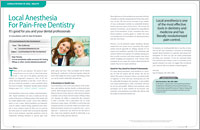 Local Anesthesia for Pain-Free Dentistry
Local anesthesia is one of the most effective tools in dentistry and medicine. It is safe, effective and has totally revolutionized pain control. Without local anesthesia, some dental procedures would be quite stressful for all involved. It's good for you and for your dental professionals… Read Article