Fixed Bridges
A dental bridge is a fixed (non-removable) restoration and has traditionally been and still can be an excellent way to replace missing teeth.
There are several types of bridges. We can discuss the best options for your particular case during your consultation with Dr. Sevey. The "traditional bridge" is the most popular type and is usually made of porcelain fused to a gold framework. Newer porcelain fused to CAD CAM milled zirconia fixed bridges are an option for a very strong and esthetic alternative to the traditional porcelain fused to gold type. Fixed bridgework consists of crowns that go over the anchoring teeth (abutment teeth) and have artificial teeth (pontics) attached to the abutment crowns , filling the gap created by one or more missing teeth.
There is a variation of the traditional fixed bridge called the "Maryland Bridge" or resin bonded bridge. It is not a substitute for a traditional bridge, but there are times when it is not advisable to crown the anchoring teeth and it may be a more conservative option in these situations.
Dental bridges are highly durable and will last many years, however they may need replacement or need to be re-cemented or repaired due to normal wear.
Reasons for a fixed bridge:
Replace missing teeth.
Maintain facial shape.
Prevent remaining teeth from drifting out of position.
Restore chewing and speaking ability.
Restore your smile.
Upgrade from a removable partial denture to a permanent dental appliance.
Although fixed dental bridges continue to be one of the best ways to replace missing teeth, replacing missing teeth with dental implants and crowns has become an option that many times has significant advantages to the fixed dental bridge.  For more information on Dental Bridges in Bangor Maine, call today for a consultation.  During your appointment at Creative Dental Solutions, we will discuss which option may be best for you.  Please read further on for information on replacement of teeth with dental implants.
Related Bridgework Articles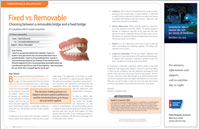 Fixed vs. Removable
For those patients who have lost all their teeth, but have not lost significant bone, a fixed bridge (permanent non-removable teeth) may be the treatment of choice since the new bridge is not needed for facial and lip support. However, not all patients are candidates for this treatment… Read Article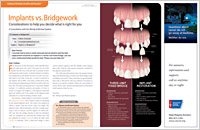 Implants vs. Bridgework
Considerations to help you decide what is right for you. However, a discussion with your dentist is necessary to discuss your specific situation. Please see your dentist to review all the risks, benefits and alternatives to determine which option is best for you… Read Article