Tooth Whitening
Having whiter teeth has now become the number one aesthetic concern of many patients. Tooth whitening (or bleaching) is a simple, non-invasive dental treatment used to change the color of natural tooth enamel and can be an ideal way to enhance the beauty of your smile.
Creative Dental solutions has a number of ways to whiten your teeth. The most popular method is using a home bleaching system that will whiten teeth in 14 to 21 days. Dr. Sevey will make you flexible custom fitted bleaching appliances that you can wear while you sleep, or for a period of time during the day. We can enhance the results of at home bleaching by an in office "jump start" and also offer an in office "deep bleaching" at the end of treatment for those that want the ultimate in whitening!
In office bleaching without the at home process is available and may be the best option for those who need the bleaching done quickly or don't have the patience for the at home process. One visit to our Bangor office may be enough, although needing more than one session is not uncommon.
Office dispensed, "over the counter", options are also available.
Since tooth whitening only works on natural tooth enamel, it is important to evaluate replacement of any old fillings, crowns, etc. Replacement of any restorations will be done after bleaching so they will match the newly bleached teeth.
Tooth whitening can last nicely, but all teeth can discolor with time. A touch-up maybe needed, whether it be at home a few times a year or at the office periodically. If you smoke, drink coffee, tea, or wine, you may need to do maintenance bleaching more often.
Reasons for tooth whitening:
Fluorosis (excessive fluoridation during tooth development).
Normal wear of outer tooth layer.
Stained teeth due to medications such as tetracycline
Yellow, brown stained and darkened teeth.
Related Teeth Whitening Articles
Teeth Whitening – Brighter, lighter, whiter…
The subconscious impact of a white smile is radiant health, happiness, warmth and invitation. This phenomenon has been reinforced with the spread of American culture worldwide, where an especially white smile has even been coined a "Hollywood smile." Today brighter, lighter, whiter teeth have become a norm. Tooth whitening by bleaching is a successful, conservative, relatively inexpensive and safe alternative… Read Article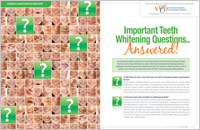 Important Teeth Whitening Questions Answered!
In Dear Doctor's interview with nationally noted teeth-whitening expert Dr. Van B. Haywood, he answers questions about bleaching techniques and safety in achieving the best possible results. If you are thinking about getting your teeth whitened at your dentist's office or doing it yourself at home, this is a must-read… Read Article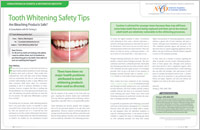 Tooth Whitening Safety Tips
There have been no major health problems attributed to tooth whitening products when used as directed. Many studies have confirmed this, and we will share some of these findings with you… Read Article